How to Choose a High Definition Antenna
by David Lipscomb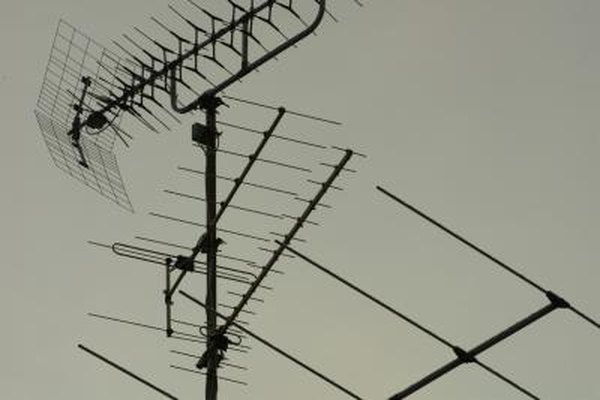 Compared to costly channel-laden subscription services from cable or satellite providers, over-the-air high definition television is free. Provided by local broadcasters, these high-quality digital signals are received by a rooftop or indoor antenna. The antenna you choose is largely governed by your location and distance relative to broadcast towers, since broadcasters have varying levels of transmission strength and antenna height. Indoor environments might suggest a lower-profile or sleeker unit, while rooftop and attic antennas require precise orientation. You can use online resources to help you select and orient your antenna correctly.
Why an Antenna?
Over-the-air antennas offer the best high definition performance compared to subscription services. All subscription providers use varying levels of compression to squeeze multiple channels into a television package. This compression reduces image quality. Since local broadcasters emit channels from their towers directly to an HD antenna, this compression is not needed. Additionally, if you're not home very often or simply do not place a high priority on hundreds of channel options, the high cost of subscription television services might not make much sense. Severe weather rarely affects antenna reception as it could satellite feeds, unless it forced the antenna to move. Terrestrial antennas also do an excellent job of receiving FM radio stations, increasing versatility.
Rooftop Antennas
If your antenna is placed outside or in an attic, there are three primary rules to follow: height, surface area and orientation. Getting the antenna as high as possible reduces or eliminates multipath or signal bounce, caused by adjacent buildings or large trees. Signal bounce makes a television signal to reach the antenna at different times, causing the signal to cancel itself out. A larger antenna receives more signal, making it easier to calibrate to the broadcast antennas. The Telecommunications Act of 1996 prevents homeowner associations from limiting the presence or size of your antenna, so choose the one that gives you the best reception. Proper orientation of your antenna is critical, aiming the elements towards your local broadcast towers. Resources like AntennaWeb.org or TV Fool.com help you select your antenna type based on your geographic location, using a color-coded system.
Indoor Antennas
In general, the closer you live to a broadcast tower the higher the likelihood you can use an indoor model. In addition, apartments or smaller living spaces may force you to select an indoor antenna. Although generally not as consistent, these units are relatively flexible in installation options due to their size. Many indoor units are weatherproof, allowing you to place one on a deck using a couple screws or pole-mounted in a concrete-filled bucket. Signal boosters, often included with indoor antennas, assist in rejecting other competing signals, while compensating for the relatively small surface area compared to a rooftop model.
Amplifiers and Boosters
Coaxial cable carries the signal from the antenna to your tuner. If that cable feed is split multiple times or travels over 100 feet, you'll want to consider an amplifier. These devices sit in-line with the coaxial cable, creating a stronger signal that cancels out signal loss and interference. Mounting the amplifier at or very near the antenna compensates for cable distance and losses incurred from using a splitter or distribution panel.
Uni-Directional versus Omni-Directional
Uni-directional antennas are great for those situations where most of the channels you are trying to pull in are within a more confined geographic area. Although more powerful, these antennas have a very narrow range. Omni-directional antennas are needed when broadcast towers are spread over a wider geographic area. Most online guides provide an overhead map, showing your relationship to local towers. If the towers are within a 20 degree window of each other, uni-directional antennas work. If you are relatively surrounded by antennas, you need an omni-directional unit to pull them all in.
VHF or UHF?
Prior to to 2009, the vast majority of broadcasters sent signals in the UHF bands. After the digital transition, many switched or planned to switch to VHF. The VHF broadcast range comprises channels 2 through 13, while UHF includes 14 through 69. Combination UHF/VHF antennas assist in making your installation more resistant to transmission band changes made by broadcasters over time, helping to ensure you receive all available channels. However, combination antennas are typically larger, since more elements are required to pull in more channels.
References
More Articles
Photo Credits
photo_camera

Photos.com/Photos.com/Getty Images