How to Get a Cheap iPhone
by Carol Finch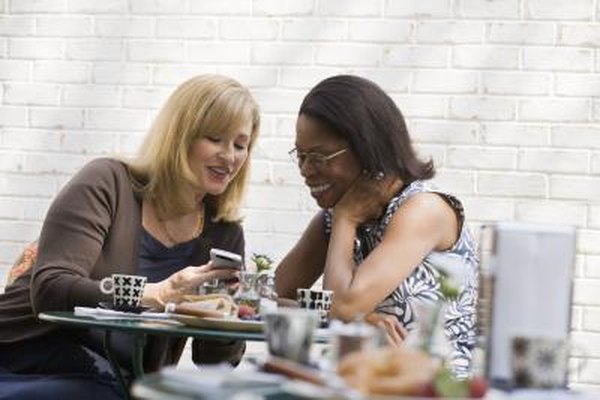 Apple's pricing policies keep its products close to its suggested retail prices. This practice makes it hard to buy a new iPhone at a discount. However, you can save money by buying older models, taking out a cell phone contract or finding a retailer that has an incentive deal. If you're happy with a used iPhone, you can buy refurbished models, which have been returned or sold and then tested or repaired, or you can buy a used phone from a private seller.
Buy an Earlier Model
Typically, you can pick up an older model iPhone at a lower cost whenever Apple releases a new version. For example, as of September 2014, you can buy a 16GB iPhone 5S on the Apple website for $99 with a contract or for $549 unlocked. The recommended selling price for this model on its release in 2013 was $199 with a contract and $649 unlocked.
Use a Cell Phone Contract
If you're prepared to commit to a cell phone contract, you can get a free or discounted iPhone. Typically, the less you pay for the phone, the more you'll pay each month for the plan. If you already have a contract and are eligible for an upgrade, you may be able to negotiate a good deal to switch to an iPhone. If you can't upgrade right now, check out if other providers have a switch offer. They may cover the costs of paying down your contract -- some also give you trade-in credit for your current phone -- if you sign up for one of their plans.
Look for Trade-in Deals and Special Offers
Shop around to see if you can find a special deal -- some retailers and cell phone companies have trade-in services, and some offer incentives if you buy an iPhone or take out a plan. Some trade-in deals work only if you already have an iPhone, but some retailers accept other smartphones. In some cases, including Apple's recycling service, you can put the money toward buying a new iPhone; in others, you have to buy the phone first and then get a gift card or credit to your account.
Buy a Refurbished IPhone
You can buy iPhone refurbs as part of a cell phone contract or from retailers, such as exchange stores and some Apple resellers. You'll also find lots of refurbished phones on auction sites such as eBay, but check out the seller before you buy and look for phones that come with a warranty. Apple has a refurbishment program on its website, but this doesn't include iPhones. It has used an unbranded eBay store in the past to sell refurbs, but has no official presence on the site.
Buy a Used IPhone
Auction websites can be a good way to find a cheap used iPhone but have some risks -- you'll typically buy from a stranger without seeing the phone. EBay recommends that you check a seller's feedback before bidding. You can also filter results to show only top-rated sellers who have built a good reputation on the site. People also list used iPhones in classified ads in newspapers and on sites like Craigslist. Again, perform your due diligence. Craigslist recommends that you deal with local sellers. If you do this, you can ask to meet the seller and check out the iPhone before you buy it, and verify that the device works and isn't stolen.
More Articles
Photo Credits
photo_camera

Jupiterimages/Stockbyte/Getty Images