How to Change a Linksys Password
by Robert Karr

Linksys products used to connect to the Internet include a security password that is intended to reduce the possibility of hackers gaining access to devices like routers or broadband connections. There is always a default password set by Linksys when it releases the hardware. However, the default password distributed with the product is easily guessed by malicious individuals. Therefore, it is highly advisable that users change this default password to a random, highly secure one once they install the Linksys product.
Open a browser window and type in this URL in the address field: 192.168.1.1. On the Login screen that appears, leave the User Name field blank and type in your existing password.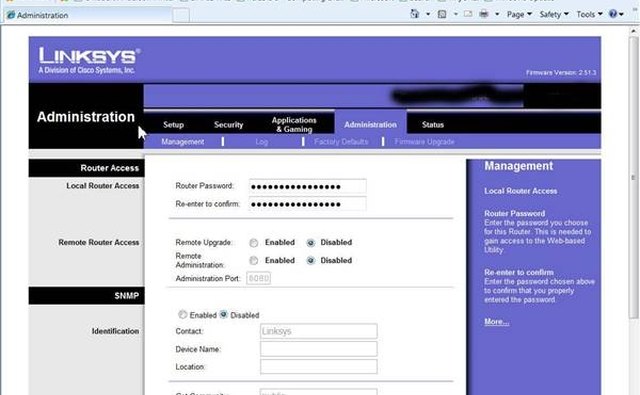 Click on "Administration" in the Configuration screen that appears. The first items at the top of the window that follows are boxes with dots labeled "Router Password" and "Re-enter to Confirm."
Delete the existing characters in these boxes. Enter the new password and confirm it in the boxes.
Scroll down to the bottom of the page and click on "Save Settings." If you decide to redo the new password, click on "Cancel Changes," and repeat the above steps.
Exit from the Configuration options by closing the Web browser. Then retest the changes by logging in to the router following Step 1.
Tip
check

If you have not previously set a password, then on the Login screen, leave the User Name blank, and use "admin" in lowercase letters as a password. If you forget the password, use the reset button on the Linksys device to change back to the factory default settings. Set up a new password following the steps in this article. Visit the Linksys.com support page for more information on setting up and configuring Linksys products.
References
More Articles