Can You Get a Swipe Keyboard on an iPhone?
by Ashley Poland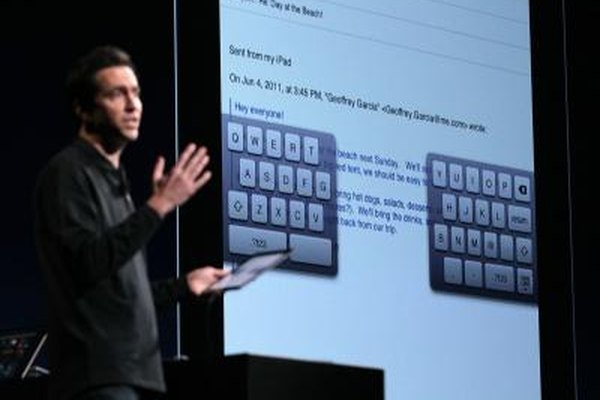 Sliding a finger along your smartphone keyboard to type is a method popularized primarily by the Sywpe keyboard system. Swype is supplied on some Android smartphones and can run on devices that use Android 2.2 or later. The iPhone does not support Swype as of the time of publication, but you can install keyboard apps that use the swipe-to-type functionality. The iPhone iOS does not allow you to change the core keyboard on your phone; you have to run the swipe keyboard as an app.
SwipeType
1
Open the App Store on your iPhone and search for "SwipeType," an alternative keyboard app provided by Akhil Tolani. SwipeType is a commercial app, priced at $0.99 as of early 2013.
2
Install the app on your phone and then select it from your home screen. SwipeType functions as a notepad application with several sharing options to bring the effect of using the swipe keyboard to multiple apps.
3
Type your message using the SwipeType keyboard and then select a service for sharing. Of the many options available, you can choose to share to Facebook, email, Twitter, Dropbox, or copy and paste.
TouchPal Keyboard
1
Open the App Store on your iPhone and search for "TouchPal." The free app is provided by CooTek.
2
Choose the app from the home screen after it's installed. You can change settings in TouchPal, such as the language and the keyboard layout style.
3
Type your message in the TouchPal app. With TouchPal you can export your notes to Evernote or copy them and paste them in another app.
Swype Pro Input Method
1
Open the App Store on your iPhone and search for "Swype Pro Input Method" or "Swipe to Type." The app is provided by Axotic.
2
Install the app on your iPhone and then select it from the home screen. The keyboard presents the swiping keyboard as a text editor of sorts. Type by swiping your finger along the keys.
3
Copy the text you've written and paste it into your app of choice, whether it's a website or an email. While this approach isn't ideal for rapid-fire typing, such as texting or instant messaging, it provides additional functionality for long messages.
Warning
These apps have received mixed reviews from users. Research closely before you install and experiment at your own risk.
More Articles