Can I Plug My Laptop Into My TV and Use Skype?
by Luke Arthur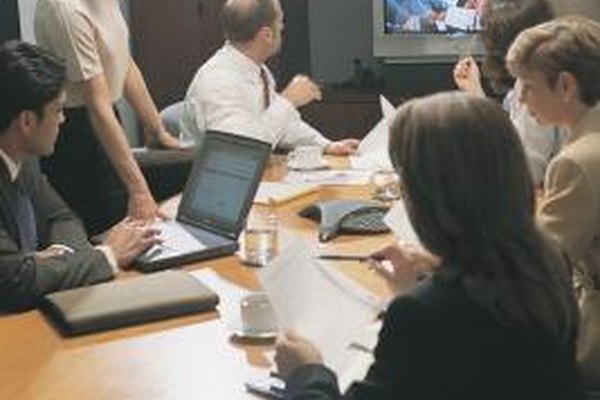 Using the right monitor for a video chat can make the difference between a clear view of who you are talking to and an image that is too small. Using a television as your monitor provides you with a bigger screen, which can accommodate multiple speakers in the same room. With the right cords and software, connecting your laptop to your TV for video calls is simple.
Getting the Right Connector
One of the most challenging aspects of this process is finding the correct connector for the job. You must determine which type of connection options are available for both your TV and your laptop. Look for HDMI, VGA, S-Video and composite cable options. If both your TV and your laptop have the same connection, then all you need is that type of cord to connect them. For instance, if your TV and your laptop have an HDMI port, you just need an HDMI cable. Some older TVs may not have any connections which can be used to connect your laptop. Sometimes, you may need to use multiple cables to connect the two devices or an adapter that converts from one connector to another. HDMI is the preferable method because you only need one cord and it provides the highest quality video. With some of the other methods, the video and audio quality will be lacking. Once you determine which cords to use, plug the appropriate end into the laptop and the other end into the connection on the back of the TV.
Adapter
If your television and your laptop do not share the same type of port, an adapter will be necessary. For example, if your television has an HDMI port but your laptop has a DVI port, you could get a DVI to HDMI adapter. You will use a DVI cable and plug it into your computer. On the other end, you will attach the adapter, which has an HDMI component on the opposite side. You then plug that end into the TV, enabling you to use the TV as a monitor.
Configuration
After you connect your television to your laptop with the proper cord, you will need to configure the computer correctly to make it work. To do this, right-click on the desktop and select "Screen Resolution." From there, you should see an option to check "Monitor 2." Increase the resolution as far as it will allow. Then click on "Connect to a projector" and choose the "Extend" option. At this point, you should be able to see the content from your computer screen on your TV.
Video Calling
At this point, you could either use a webcam built into your laptop or set up an independent webcam. With a stand-alone webcam, you will connect it to your laptop and then place it on top of the TV. This is necessary if you want to create a true video calling experience. Otherwise, you will have to look into the laptop webcam when talking. You will also need to download Skype to your computer and add your friend as a contact. When you are both online, clicking on "Video Call" within the Skype application will start the call.
Photo Credits
photo_camera

Comstock/Comstock/Getty Images