Can I Install iTunes to HP Mini?
by James Crider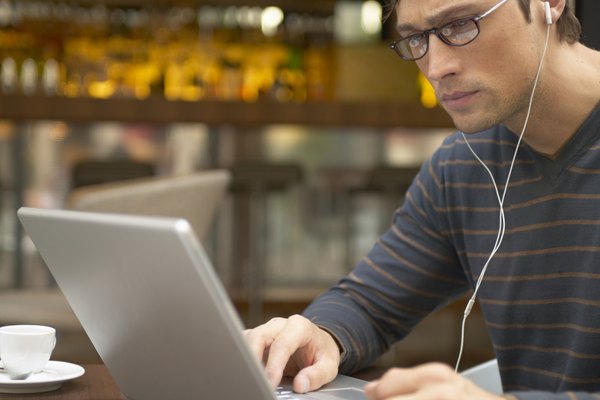 The HP Mini line of laptops fall into a category called "netbooks," which are like laptops that have 10-inch or smaller screens, low-power, efficient processors and long-lasting battery life. The majority of netbooks are sold running Windows, making a huge library of free software available--including Apple's iTunes. While iTunes is a decent music organizer and a hub for Apple devices, there are many reasons why you wouldn't want to use it on an HP Mini.
Reasons To Use iTunes
The reason that most people install iTunes is to sync music and movies to their iPhone, iPod or iPad. The iTunes software is the only way to purchase songs, movies and TV shows from the expansive iTunes store. iTunes is also a powerful media organizer, sorting your media in its library and automatically downloading podcasts and subscribed television shows. You can download iTunes to your HP Mini from the resource link at the bottom of this page--just wait for the download to finish, double-click the icon and follow the setup instructions.
Reasons Not To Use iTunes
In the last few years, the feature-set of iTunes has gotten bigger and bigger--which also means that the software has become slower and slower, especially on Windows. Even high-powered desktop machines have trouble with lag and bloat in recent iTunes releases, which means that small, slow machines like the HP Minis are ill-equipped to deal with iTunes. Netbooks are designed primarily for Web surfing and just don't have the RAM and processor power that iTunes requires to function well. If you don't have an iPhone or iPod, it's best to leave iTunes off of your HP Mini netbook.
Alternatives to iTunes
Just because the HP Mini is too underpowered for efficiently running iTunes doesn't mean you can't enjoy a full-featured music program. The easiest alternative to iTunes is Windows Media Center--it's already installed on every HP Mini. If you want something with a similar look and feel to iTunes, Songbird is a full-featured, open-source alternative available for free (see "Resources"). YamiPod, a small utility designed to sync your music with an iPod or iPhone without the use of iTunes, is also free (again, see "Resources").
Alernatives to the iTunes Store
Unfortunately, none of the programs listed in the previous section has access to the iTunes store for music or video. While you can buy music from the iTunes store and use it with almost any program or device, video is a different matter entirely. Microsoft's Zune software (see "Resources") sells music and movies and you don't need a Zune device to play them. Amazon has its own music store and a streaming video store/rental service (see "Resources")--though these videos won't work on your iPod or iPhone.
Photo Credits
photo_camera

Jochen Sand/Photodisc/Getty Images