Can You Download Music From Your Computer to an iPhone?
by David Weinberg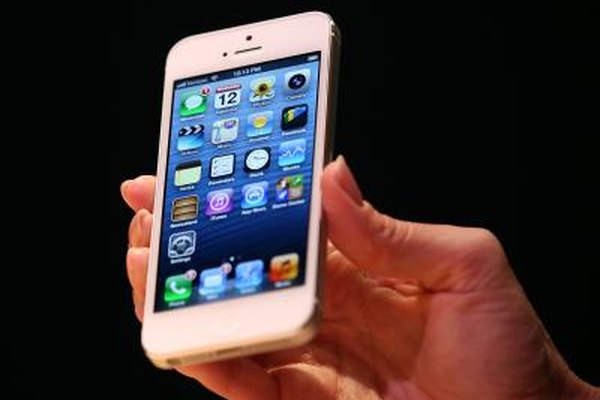 Like other portable Apple products, the iPhone uses iTunes software for downloading media files from a computer. To transfer files from your computer, you need to install iTunes first and add your compatible music files to your iTunes library. You can then configure your iPhone to automatically receive music files from certain folders or playlists whenever you connect it, or you can manually transfer individual files.
iTunes
ITunes, which is available from Apple's website, is a combination of a music store and a music library manager. After installing iTunes on your computer, you need to import your music into the iTunes library. Select "Add Folder To Library" from the "File" menu and select a folder to add all of the music in that folder into iTunes. iTunes will automatically read the artist, album, genre and title information from each file and organize your collection accordingly. You can view the content on your computer by selecting "Music" in the "Library" section of the left panel.
Supported Files
ITunes can only import file types with which it is compatible. Both iTunes and your iPhone support files in AAC, HE-AAC, MP3, MP3 VBR, AAX, AAX+, Apple lossless, AIFF and WAV formats. ITunes cannot directly play WMA files, but it will automatically convert them to a convertible format when you import them into iTunes on a Windows computer. Your iPhone can play MP3 and AAC files that are encoded at up to 320 kilobits per second. The iTunes store, accessible through the link in iTunes' left panel, exclusively sells audio files compatible with your iPhone.
Automatic Sync
When you initially connect your iPhone to your computer via its USB cable, iTunes will recognize the device and prompt you to enter synchronization options. Select the "Music" tab to view the music synchronization options. Check the "Sync Music" box to enable automatic music syncing. If you select "All Songs And Playlists," iTunes will automatically transfer any audio files you've added to your iTunes library since you last connected your iPhone with iTunes to your iPhone each time you connect it. It will also remove files from your iPhone if you've removed them from your iTunes library. ITunes will not allow you to select this option if you have more music on your computer than your iPhone can hold. Choose a playlist to synchronize if you only want your computer to automatically synchronize the files in that playlist to your iPhone. iTunes will also remove files you've removed from these playlists.
Manual Sync
If you have more music files on your computer than you have space for on your iPhone, or if you just want more control over your iPhone's music, you can enable manual sync. Click your iPhone in iTunes' left panel and click the "Summary" tab. Check "Manually Manage Music And Videos" to enable manual syncing. Select the "Music" tab and uncheck the "Sync Music" box. Click "Music" under "Library" in the left panel. Drag the songs, albums or artists you want on your iPhone to the iPhone icon in the left panel to transfer those songs to your iPhone.
Photo Credits
photo_camera

Justin Sullivan/Getty Images News/Getty Images