What Can You Do With an iPod?
by Shannon Keen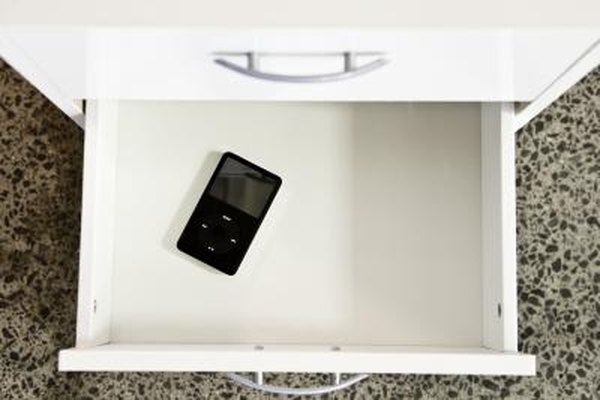 The iPod is a portable media player developed by Apple. It comes in several variations including the iPod shuffle, nano, classic and touch. The most popular model, the ipod Classic, can store up to 160 gigabytes of data on its hard drive. All four iPod models can be used as music players, but the iPod classic can also be used to play games, watch video and even store and display photos.
Music
Apple's website estimates the iPod classic has enough memory to store up to 40,000 songs, provided there is no other data stored on it. iPods break down the user's music library into several categories including artist, album, song and genre. Users can also create playlists in iTunes to further define their music collections. The iPod classic also has a Genius feature that automatically creates playlists filled with music similar to any song selected by the user.
Video
The iPod classic, iPod touch and certain models of the iPod nano are able to store and play video as well as music. Users have the option to buy movies, television shows and other videos from the iTunes Store and upload them to their iPods to watch whenever they choose. They can also rent movies or download free podcasts as well. The iPod classic comes with a 2.5 inch video display.
Games
Every iPod model except shuffle -- due to its lack of a screen -- gives users the ability to play a wide range of games. Vortex, iQuiz and Klondike come standard on the iPod classic and Brick, Music Quiz, Parachute and Solitaire come standard on the nano. Many other games are available for purchase and download from the iTunes Store. Once they have been downloaded into iTunes, they can be uploaded to the user's iPod and played anytime.
Photos
Users can also use their iPods to store and display photos, provided they have a Mac computer with iPhoto installed. The iTunes program takes selected photos stored in iPhoto and syncs them to the iPod. Once they have been uploaded, they can be viewed individually or as a slideshow. The slideshow option comes complete with transitions between each photo. With the proper Apple AV cable, an iPod can even hook up to and play a photo slideshow on a television.
References
Photo Credits
photo_camera

Jupiterimages/Photos.com/Getty Images