How Can I Add Music to an iPad From a Computer?
By Mario Calhoun
When connected to a laptop or desktop computer, the iPad will automatically sync with the iTunes library on your computer, or you can change the configuration settings for manual media synchronization. After the synchronization is complete, your music is stored in the iPod application on the iPad. In addition to adding music from your computer, you can also purchase music directly from the iTunes Store through the iTunes application on the iPad.
Automatically Sync Music
Step 1
Run iTunes on your computer.
Step 2
Connect your iPad to your computer using the supplied USB cable.
Step 4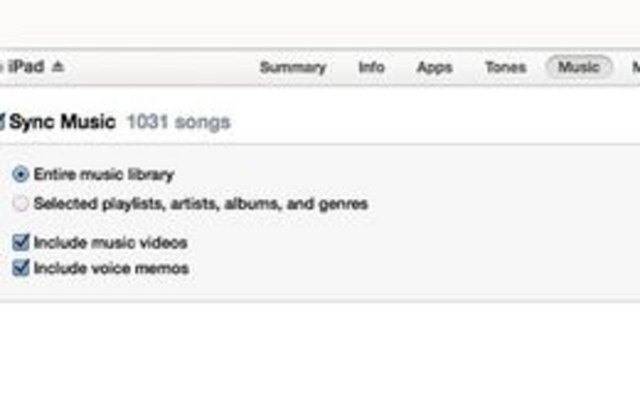 Check the box next to "Sync Music" and click the circle next to "Entire music library" or "Selected playlists, artists and genres." Click the boxes next to specific artists, playlists and genres if you want to sync specific music to your iPad.
Click the "Apply" button at the bottom of the iTunes window. Click the "Eject" button in the upper left corner when synchronization is complete. Unplug the iPad from the computer.
Manually Add Music
Step 2
Click the "iPad" button in the upper right corner of iTunes and click the "Summary" tab in the main iTunes window.
Step 4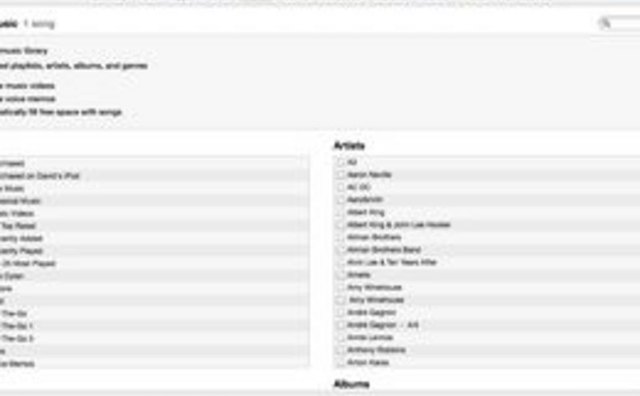 Click the "Music" tab and then select then select the songs, artists, albums or playlists you want to add by clicking the appropriate check boxes. Click the "Apply" button.
Click the "Eject" icon next to the iPad button in iTunes after the music transfer completes.