How to Get Free Broadband Access
by Barbara Conn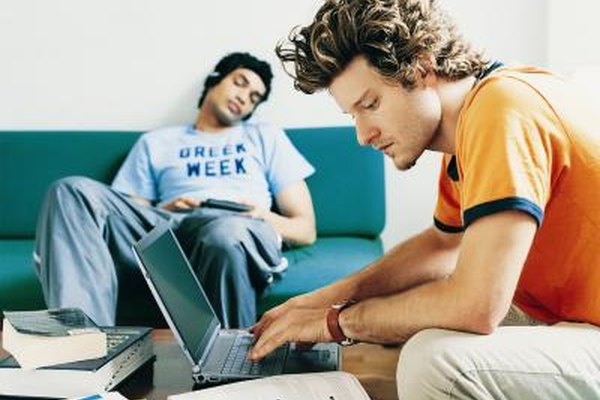 Every year the number of free broadband access points around the world grows. The flavor of free broadband is Wi-Fi, a series of IEEE 802.11 standards. There are Wi-Fi devices in many laptops, mobile phones, and video game consoles. When visiting libraries, bookstores, coffee shops, apartment buildings, hotels, restaurants, airports, buses, campgrounds, and parks, you may find free public Wi-Fi hotspots. Some local governments have ambitious plans to cover entire cities with free Wi-Fi service.
1
Determine whether your laptop or netbook has an internal wireless card and is Wi-Fi ready. For Windows computers, select the computer "Start" button and highlight "Connect To." If you see the option "Wireless Network Connection," your computer is Wi-Fi ready. If you do not see "Connect To," try selecting "Start," "Control Panel," "Network and Internet Connections," and "Network Connections." If you can now see "Wireless Network Connection," your computer is Wi-Fi ready. For Mac laptops, check for an AirPort heading on the "Network Preferences" panel or the "AirPort" icon (with four rays) on the right side of the menu bar. If you see "AirPort" in "Network Preferences" but not in the menu bar, select "Configure" and "AirPort." If your laptop or netbook is Wi-Fi ready, go to Step 3.
2
Add Wi-Fi capability to a laptop, if necessary, by adding an adapter. For free broadband access, select an adapter without a required data plan. Install your selected USB or PCMCIA wireless receiver card adapter. Check that "Wireless Network Connection" or "AirPort" appears.
3
Find a free broadband access point (hotspot) at a location in your area from the listings at WiFiFreeNet.com.
4
Bring your laptop (and adapter) to the physical address of your selected broadband access point. Disable other Internet connections on your laptop. Enable the wireless network connection. In Windows, double-click on the wireless or network icon in the computer system tray. On a Mac, turn the AirPort card on. View available networks. Select and connect to the Wi-Fi access point at your location.
Tips
check

The newest Wii and Nintendo game consoles are Wi-Fi enabled.

check

Wi-Fi enabled mobile phones can connect to Wi-Fi networks at hotspots. Using the Wi-Fi connection is most likely faster than using the mobile phone network connection.

check

There are antennas that will extend the wireless range of your Wi-Fi enabled device.

check

There are range extenders that can extend the range of an access point.

check

If you are visiting a website you trust and use its hypertext transfer protocol secure in your web browser address bar (https:// rather than http://), your log-in or user ID, password, credit card, and other personal information on wired and wireless connections are secure.

check

Some wireless adapters include a scanner that helps locate available hotspots without turning on a laptop. The adapter displays a listing of networks by signal strength.
Warnings
close

Wi-Fi access has limited range. There are locations, particularly in rural areas, where there are no nearby free Wi-Fi hot spots.

close

Beware of shady operators who sell modified modems that provide free, anonymous Internet service from broadband providers. Using such modems for this purpose is theft of service.

close

To make Wi-Fi connection easier for users, most free public access wireless networks have security options disabled. If you can't access a website via https:// (rather than http://) in your browser address bar, don't wirelessly transmit important personal or business information, such as your log-in or user ID, password, and credit card information. If you do, others will be able to view your data.

close

Turn off file sharing when using unsecured public access Wi-Fi sites.

close

To add your own security when using unsecured free public access Wi-Fi networks, install and use a virtual private network (VPN). A VPN creates your own private connection across a public network. An alternative to creating a VPN is to install and use software to secure your web session with https:// encryption.

close

With some mobile phones and the right mobile phone service plan, you can access the Web from your phone. With many phone plans, however, Web access requires an additional monthly fee. In addition, mobile phone networks are often slower than Wi-Fi and other broadband options.

close

Mobile phone users see different content for some websites than laptop users because web developers may make a different version to enhance the readability and usefulness of a website for those using the smaller mobile phone screens.

close

Gaining Internet access through an unsecured private business or personal Wi-Fi network (even if invited) reduces the speed of the network connection of the network owner.
References
Photo Credits
photo_camera

Digital Vision./Digital Vision/Getty Images