Adding a Facebook Icon to a Thunderbird Signature
by Kathryn Hatashita-Lee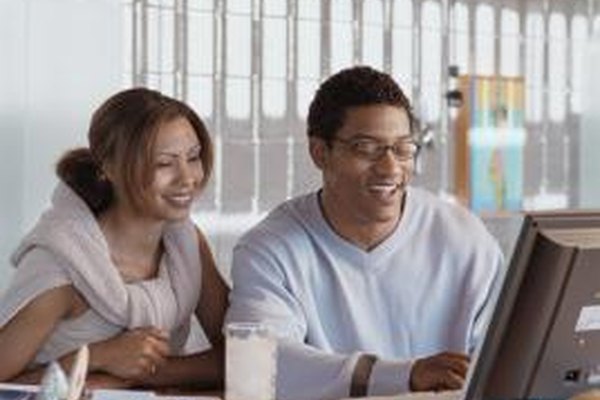 Add a Facebook badge to your Mozilla Thunderbird signature to support the growth of your online network. Facebook includes four badge templates that you modify to display the details you want. For example, the profile badge can include your profile photo, website or mobile number. Each badge comes with HTML code that you transfer to a Thunderbird form to update your account settings. With every new email you send, your custom Facebook badge provides a visually attractive signature.
Facebook Badge
1
Open your Facebook profile and enter "badges" in the search box. Click "About Facebook Website Badges" in the drop-down to view four types of badges: profile badge, like badge, photo badge and page badge.
2
Click the preferred badge style link, such as "Profile Badge," to preview.
3
Click "Edit this badge" to change the layout or text content. For example, options for the profile badge include your current city and networks. Click each preferred option. Click "Save."
4
Click "Other" to display the badge HTML code.
Transfer the Facebook HTML Code to Thunderbird
1
Open your Thunderbird account, click the "Tools" menu and then click "Account Settings."
2
Tick the "Use HTML" check box in the Signature Text section.
3
Right-click the HTML code on the Facebook page to open a list, and click "Copy." Right-click in the Thunderbird Signature text box to open a list, and click "Paste." As an alternative, click in the box and press "Ctrl-V" to paste the code. Your Facebook badge code displays.
4
Click "OK" to close the Account Settings form. The inbox will display again with the toolbar and menu bar.
5
Click "Write" on the toolbar of the Inbox tab to create a new message. When you are ready to compose, your Facebook badge will display on the left side of the message screen.
Tips
check

If your new signature displays unwanted text -- such as a code snippet -- edit the HTML code. Click "Tools" and then click "Account Settings" to view the HTML code again. Click and drag the scroll button to bring the unwanted text into view in the text box. For example, click and drag on "> ... <" and then press "Delete." Click "OK." Click "Write" to view your updated signature.

check

If you have more than one Thunderbird account, click the preferred account in the left panel.
References
Photo Credits
photo_camera

Polka Dot Images/Polka Dot/Getty Images