How to Add HDMI to a Receiver
by David Lipscomb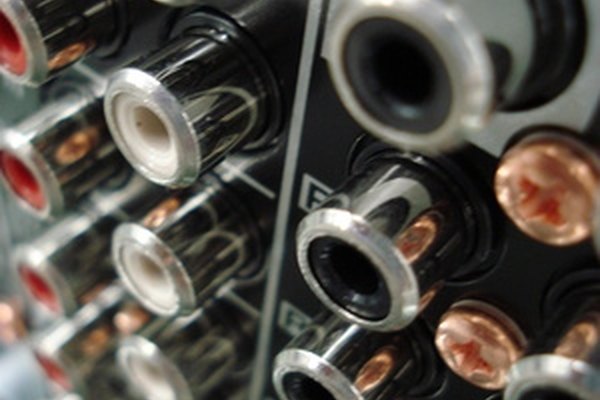 HDMI switching and decoding is prevalent on nearly all modern A/V receivers. However, many quality units are still in use, possessing fantastic sound quality and feature sets, yet missing HDMI. Fortunately, there are devices that, while they will not decode audio, will automatically switch HDMI video and optical audio. This has the side effect of freeing up additional digital audio jacks on the receiver, now routed into the box. While this certainly is not designed to replace full HDMI functionality, it does serve to ease remote juggling significantly.
Access the rear of the hub and receiver. Identify the optical audio input designated for use on the receiver. Remove any protective caps on the hub's optical audio jacks. Optical audio jacks can be identified by looking for a small black square-shaped cap, or a door matching the shape of the end of an optical cable.
Route the HDMI cables from each HDMI source into the hub. Plug in the HDMI cable into the HDMI out from each device, then into an open HDMI input on the hub. Run the optical cable (for digital audio) from those same devices into the corresponding optical jacks on the hub. Use the shape of the optical cable's connector to identify the matching receptacle on the hub.
Run a single optical audio cable from the hub to the user-chosen optical jack on the receiver. Since all digital audio is switched through the hub, only a single optical jack is needed on the receiver. Route a single HDMI cable from the hub to the display, by plugging in the HDMI cable from the "HDMI OUT" jack on the hub. Plug the other end of the HDMI cable into an open HDMI input on the display.
Turn on the display and surround receiver, and use the TV's remote to access the HDMI input connected to the hub. Turn the receiver to the audio input used for sound from the hub, either with the unit's remote or from the front panel of the receiver. Turn on the devices connected to the hub. Manually switch from one device to the next, using the HDMI hub's remote. Verify that all devices are displayed properly, and that sound from the devices is audible.
Tip
check

Since most HDMI hubs are auto-sensing, it is important to ensure that devices not in use remain off to eliminate input priority confusion. However, most often, the input in use can be manually selected with the supplied remote.
References
Photo Credits
photo_camera subwoofer image by MATTHIEU FABISIAK from Fotolia.com