How to Change a Gmail Password
by Bridgette Austin
; Updated February 23, 2018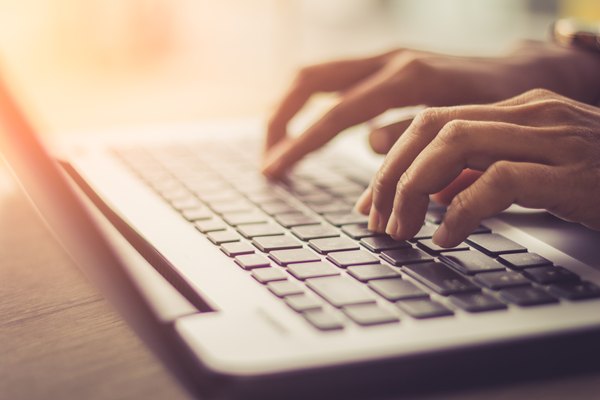 Of the email service providers available to internet users, Gmail ranks as one of the most popular. But Gmail's popularity also makes its users alluring targets for phishing attacks and email scams. If you use a Gmail account, it's important that you not only set a strong and secure password, but also change it regularly to avoid falling victim to hackers eager to steal your personal information.
How to Change Your Gmail Password
With the frequency and severity of phishing attacks increasing every year, setting a Gmail account password that is a minimum of eight characters long and contains a combination of mixed-case letters, numbers and special characters, is one way to protect yourself from scammers. To change your Gmail account password, follow these steps after logging into your account:
Click the gear icon in the top right corner of the window, then select "Settings."

Select the "Accounts and Import" tab and navigate to the "Change account settings" section. Click "Change password."

A Google login page will appear. Choose the account you wish to update by clicking the drop-down arrow in the upper right corner and selecting the appropriate account. Re-enter your current password and click "Next."

Enter your new password (be sure it's at least eight characters or more), then re-enter it in the "Confirm new password" field below. Click "Change Password."
How to Change Your Gmail Password on iPhone
To change your Gmail password on the go, you'll need to open a web browser on your iPhone and enter "myaccount.google.com" into the address bar. Once you arrive at the Google web page, do the following:
Under the My Account screen, tap "Sign-in & security."
Tap "Password."
Type your Gmail password in the login field that appears and tap "Sign-in."
Enter your new password, then re-enter it to confirm. Tap "Change Password" to complete the change.
How to Change Your Gmail Password on Android
Though Android and iOS are different mobile operating systems and have different manufacturing settings, the process for changing your Gmail password is the same – the password you use to log into your Gmail account via your desktop computer, laptop, smartphone or tablet. If you have an Android device, open a web browser app on your smartphone. Next, enter "myaccount.google.com" into the address bar and repeat the same steps outlined above for the iPhone to change your Gmail password.
How to Know if Your Gmail Account Was Hacked
As hackers step up their attacks against individuals and businesses alike, it's important to stay vigilant and quickly flag unfamiliar and suspicious account activity. For example, here are some common warning signs that indicate your Gmail account may be compromised:
Your Gmail contacts report receiving spam or unusual email messages from you.
You receive a notification about a Gmail password and/or username change that you didn't initiate or a sign-in from a device that you don't recognize.
You notice Gmail account filters, forwarding rules and labels that you didn't create.
Your Gmail account's "last account activity" feature shows your account was accessed from an unfamiliar location or device. (Click "Details" under "Last account activity" at the bottom of your Gmail window to view the account type, date, time, location and IP address of your last session.)
If you suspect unusual activity on your Gmail account, change your password immediately and follow the instructions on Google's support site to secure your account. If you use the same password for other websites and apps, change your password by visiting the provider's site via a trusted URL that's preceded by a lock symbol and "https" in your web browser's address bar. Finally, turn on two-factor authentication to add an additional layer of security and prevent unauthorized access to your Google accounts.
More Articles