Can You Protect Your Tumblr?
by Melly Parker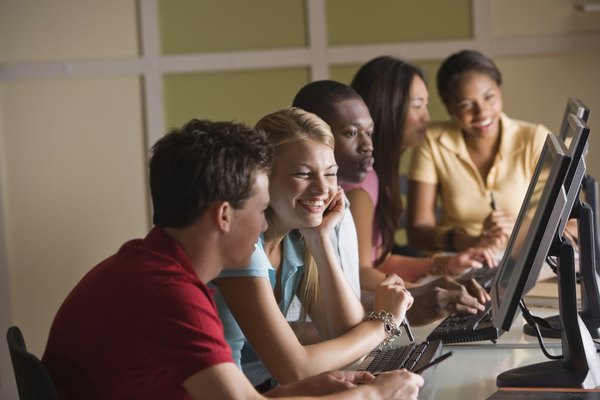 All primary Tumblr blogs are set to public, so anyone can see them -- but you can still protect your content. Consider using passwords, privacy settings, copyright notices and watermarks to protect the images, text, videos and audio you post to Tumblr. Choose one type of protection or combine multiple types of protection for an even stronger safeguard.
Prevent Theft
One of the best ways to protect your Tumblr is to put a copyright notice on your blog. Choose the type of copyright notice that best suits your content and post types. Creative Commons offers free licenses that are adjustable to suit your particular situation -- for example, one license works best for someone who wants to have content reposted, while another is better for someone that wants to prevent posts from being copied and uploaded on other sites. Some Tumblr themes incorporate CSS that will prevent a person from highlighting, selecting and copying text on your Tumblr account. You can also add the CSS code to prevent highlighting text to any customizable Tumblr template.
Marking Your Content
Another way to protect the content you upload to Tumblr is to mark it with a watermark or a piece of writing that directs any future viewers back to you. While watermarks or other text overlay can be adjusted or removed, it makes it less likely that your work will get passed on without it being attributed to you. Add the watermark or text overlay in a photo or video-editing program before you upload the image to Tumblr.
Private Posts
Another way to protect your content is to create private posts. The posts that you set to private can only be seen by you. If you want to save something to Tumblr but don't want anyone else to see it, post it with the private post option. You can also edit posts you've made in the past and choose the private option to remove old content from public view without removing it from Tumblr.
Password-Protected Blogs
Although your primary Tumblr account can't be password-protected, you can add a password onto any secondary blogs you create. When creating a new secondary blog, choose the password protect box on the setup page, enter a password and then finish the blog creation process to being using your password protected blog. You can no longer password-protect an existing secondary blog.
Ignore Other Accounts
If a specific Tumblr user is creating trouble on your blog, protect it by ignoring that user. Blocking a Tumblr account removes any associations between you and that account because you won't be able to receive messages or see comments he's left on posts. He will not be able to see any of your posts on his dashboard even if he follows your Tumblr.
More Articles