My iPhone Won't Read a SIM Card
By Ashley Hay
Updated September 28, 2017
An iPhone is still functional without a SIM card but it cannot make or receive calls nor can it use the 3G or Wi-Fi network without it. The SIM card stores customer information for cell-phone carriers to ensure that the SIM card is valid for use. When the iPhone cannot read the SIM card, the card is not inserted correctly or the card could be damaged.
Turn off your iPhone by holding down the "Power" button at the top of the phone.
Locate the SIM card tray on your iPhone. If you have the original iPhone, 3G or 3GS, it will be located at the top of the iPhone between the power button and the headphone jack. If you have the iPhone 4, it is located on the right side of the phone when the screen is facing you.
Gently insert the eject tool or a small paperclip into the small hole located directly left of the SIM card tray. Push the eject tool in and the SIM card tray will pop about half way out of the phone.
Pull the SIM card tray out and away from the phone.
Remove your SIM card from the tray. Make sure that the tray is free of dust and dirt by gently blowing on it.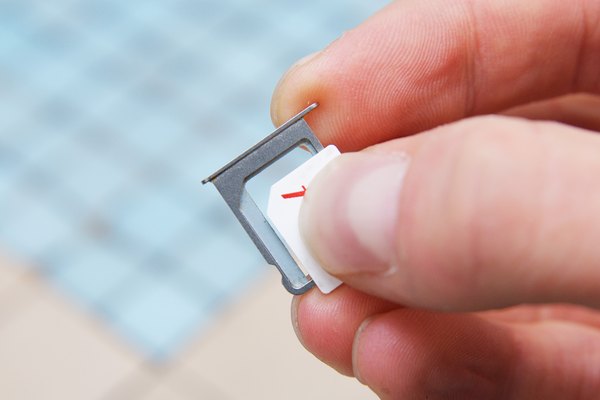 Place the SIM card back into the tray and make sure that the card is completely flat inside of the tray. The SIM card has a slanted edge on one of the corners that matches up to the slanted edge on the tray. Place the SIM card back into the tray so the slanted edge of the card matches up with the slanted edge of the tray.
Insert the SIM card tray back into your iPhone and gently push the tray in toward the phone. Once the tray is fully inserted it will be flush with the top (or side) of your iPhone.
Turn on your iPhone by pressing the "Power" button until the Apple logo appears on the screen. Once the phone has booted, the SIM card error message should be gone.
Tips
If the SIM card error remains after removing the SIM card, removing any dust particles and replacing it, the SIM card could be damaged. You may need to purchase a replacement SIM card from your cell-phone provider and repeat the above steps. To test if you need to purchase a new SIM card, try inserting another active SIM card into your iPhone and see if the error message disappears.
References
Writer Bio
Based in Columbus, Ga., Ashley Hay has been covering animal health and wellness since 2004, and arts and entertainment since 2008. She holds a Bachelors of Arts in psychology from the University of Central Florida.