How to Rotate MOV Files
by Alexis Lawrence
; Updated September 28, 2017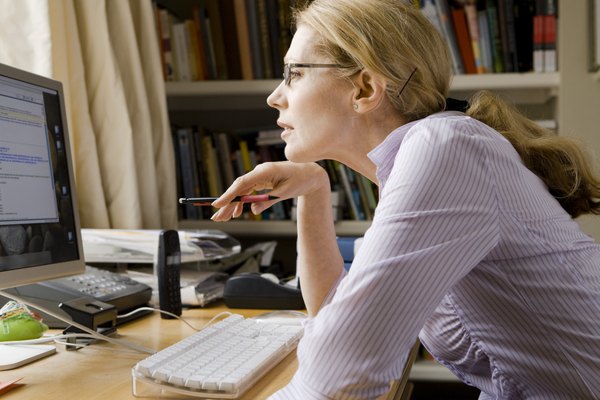 Apple QuickTime Movie files, which use the file extension MOV, can be read and edited in a variety of video programs on both Mac and Windows computer systems. Like any video files, the settings used to encode an MOV file creates issues, such as the file playing upside down or sideways when opened on your computer. If you have an MOV file that needs to be rotated, do so on either a Mac or Windows system.
iMovie 06 for Macs
Download Turn Clip if you have iMovie 06 installed on your system. Install Turn Clip by dragging the icon that appears on your Mac desktop into the iMovie folder, found through "Finder" in the "Applications" folder.
Launch iMovie from the docking bar of your computer. Open the video in iMovie as normal by clicking the "Import" button, finding the video and double-clicking it. Once you have the video imported, drag the video from the media pane into the timeline.
Click on the "Editing" tab above the timeline in iMovie to show the editing tools, and click the "Video FX" button. Click the "Turn Clip" effect from the "Video FX" list. Use the arrows next to "Rotation Angle" to select how much you want the MOV clip to rotate, keeping in mind that the clip rotates counterclockwise, so 90 degrees rotates the image a quarter turn to the left.
Click the "Apply" button to save the change. Then, go to "Share" and "Share as QuickTime" to export the rotated clip as an MOV file again.
Free Video Flip and Rotate for Windows
Download the Free Video Flip and Rotate software if you have a Windows system. Install Free Video Flip and Rotate by double-clicking the downloaded icon and following the instructions in each screen that comes up.
Open Free Video Flip and Rotate by going to "Start" > "All Programs," and finding the "Free Video Flip and Rotate" entry in the program list and clicking the program name. Import the MOV file you want to flip into the program by clicking the three dots next to "Input File," finding the MOV and double-clicking it.
Click the button with three dots next to "Output file" and find the folder on the hard drive where you want to save the rotated MOV file. Click the folder to highlight it and click "OK."
Press any of the seven rotation buttons beneath the preview screens in Free Video Flip and Rotate. The original video displays in the first screen, and the rotated video appears in the second screen. Press the "Convert" button to save the rotated video into the folder you selected.
More Articles