How to Make TV Lift Cabinets Cheaply
by Contributor
Updated September 15, 2017
All photos and article content property of Pam Irie © 03/17/10 Do not copy. Title and intro may be used in conjunction with backlink to original content.
Items you will need
Chest of drawers

Circular saw

Power miter saw (preferred) or handsaw

Carpenters pencil

Straight edge ruler

Tape measure

Stainless steel piano hinge

Stainless steel screws for hinge

Tin snips or hacksaw with metal blade

Fine metal file

2 x 4s

Wood glue

Clamps

3/4" Plywood

Wood phillips head screws

Power drill with bits
Nearly anyone can make inexpensive tv lift cabinets simply by applying a little creative thinking. Investing a few hours and basic tools will produce tv lift cabinets that are cost effective and truly one of a kind.
Purchase used dresser drawers to make tv lift cabinets. Search for these at local thrift shops or look for sturdy chest of drawers at garage sales. Choose styles that complement existing furniture pieces.
Remove the tv lift kit from the box. Read the installation instructions carefully. Because tv lift cabinets must be sturdy, you need to make note of the areas the dresser will need stabilized.
Begin construction of tv lift cabinets by removing the back dust cover on the dresser. Pull out drawers. Remove face front of drawers and set aside.
Turn the furniture upside down. Reinforce the particle board bottom when adapting for tv lift cabinets by first measuring the inside bottom dimensions. Cut a piece of ¾" plywood to size. Secure in place by screwing from the bottom through the inside braces running front to back. (See tips below for additional thoughts.)
Measure width and depth of flat screen tv and the tv lift support column. Draw a rectangle using these figures adding an additional two to three inches leeway on the top of dresser. Use circular saw to carefully cut out the tv lift cabinets opening. Lay cut piece aside.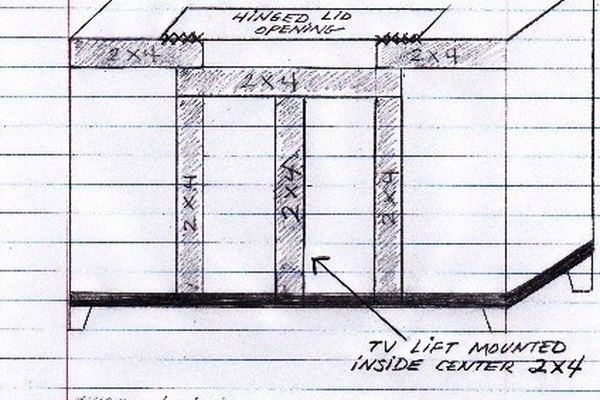 Use 2 x 4s cut and assembled to replicate the design shown to make a sturdy back brace. Take careful measurements before cutting. Determine first the position of the 2x4 pieces supporting the hinge. Continue measurements from that point. Make allowances for the hinge so the lid will lay flush when flat screen is receded. Cut two hinges to fit. Secure to lid and 2x4 braces on sides.
Place the drawer faces in position on front. Secure these from inside tv lift cabinets so no nails or screws are seen. Finish the cabinet exterior if desired at this time. Fill any visible screw holes with wood filler, sand lightly, prime and paint.
Mount the tv lift onto the front of the center 2 x 4. Enlist help to mount the flat screen tv using the universal mounting brackets included with lift. Connect the power on tv lift cabinets by following kit instructions.
Use the illustration in this article as an adaptable guide when making tv lift cabinets cheaply by using recycled furniture. Modify and tweak the design as needed so the tv lift cabinets you construct are pleasing to the eye, sturdy and working properly.
Tips
Keep in mind for aesthetic purposes, drawer pulls and legs (if any) can be changed. You may need to inset two more bottom braces before installing the bottom plywood piece.
All photos and article content property of Pam Irie © 03/17/10 Do not copy. Title and intro may be used in conjunction with backlink to original content.
More Articles