How to Copyright Images With GIMP
by Richard Burke
Updated September 22, 2017
Items you will need
MAC running OS-X

GIMP

Digital images
There seems to be a GIMP script for every occasion: case in point, the "Eg-Copyright.scm," which is located on the GIMP plug-in registry. This little application makes it very easy to watermark or create a copyright notification right in the image. It is important to have a copyright notice on your images and this tool makes it much easier than creating a layer and pasting or entering text into the layer. Simply download the script and follow the instructions below for an easier way to protect your images.
Download the script (see Resources below) and make sure it's placed in the correct folder: SCRIPTS. This can be found at //user/application support/gimp. All scripts are stored in this folder. If they are not placed in this folder the application will not be able to find them.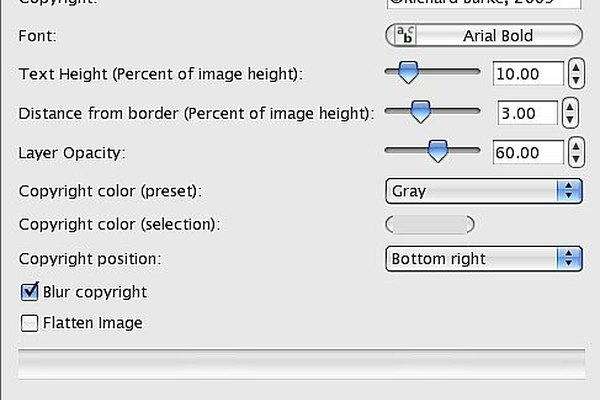 Open an image you want to copyright. Access to the copyright tool is under FILTERS. Scroll down to the EG subhead and you will find the copyright tool. Just click on it to open the toolbox. Notice that you can control the size and opacity of the text box. You can also specify location. To make a WATERMARK, select CENTER, 50% Opacity and text of about 20 percent of the original. This will create a watermark in the center of the image. Don't forget to enter in your copyright information at the top.
To create a copyright notice, select a bottom right or bottom left location and reduce the text % to about 2 percent. Select the color based on the tones and location in the image. Also increase the opacity to around 80 percent and use the BLUR feature to make the notice less sharp. This will help assure the copyright notice doesn't interfere with the eye flow of the image. Once you are done, click OK.
Here is the final image with the copyright statement in place. I could move it lower to the bottom by changing the BORDER DISTANCE. I can make it darker by increasing the OPACITY, and of course, I can select any color or font for the text. The only drawback is that the application has no batch function and you would need to add the copyright separately for each image. However, it will retain the information you entered making it easy to always have the same copyright notice in the same place on all images.
Tips
Experiment with the sliders and adjustments until you have what you want, and develop this as your standard. This will make it easy to always place the same copyright notice on all images.
More Articles