How to Convert Microcassettes to Digital Audio Files
by Contributing Writer
Updated September 28, 2017
Risi Media Communications/Demand Media
Items you will need
Microcassette

Microcassette player

1/4-inch male TRS to 1/4-inch male TRS cable

Computer

Audio recording software
Though digital voice recorders are becoming more prevalent, microcassette recorders have long been a common and cheaper method of recording voice audio. Unfortunately, storing and revisiting microcassettes is often inconvenient, and the cassettes will degrade over time. Because of this, digitizing microcassette audio is often necessary. Digital recorders make it much easier to store and share digital audio files, but it is still possible to convert your microcassettes to digital audio files.
Preparation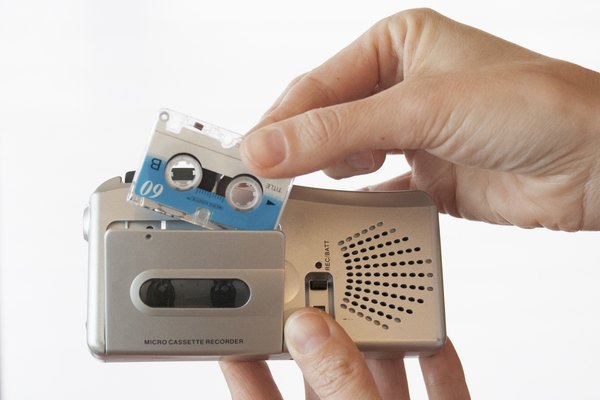 Load a microcassette into your microcassette player and rewind to the beginning.
Connect one end of your TRS to TRS cable into your microcassette player's "Line-Out" or "Headphone" jack. Connect the other end of the cable into your computer's "Line-In" or "Microphone" jack.
Choose an audio recording software. Audacity (see "Resources") is an effective open-source program available to PC, Mac and Linux users. Garage Band will also work for Mac users and is included free on new Macs. Many different recording programs exist, so find one that works for you.
Download and install recording software.
Converting Audio
Open your audio recording software. Under preferences/options, choose your computer's line-in or recording device, a location where you would like to save the final digital audio file and the type of audio file you would like to record.
Press record in your software. Then press play on your microcassette player.
Let the microcassette play as long as you would like your digital audio file to last.
Press "Stop" on your microcassette player and then press "Stop" in your recording software. The microcassette's audio is now recorded as a digital audio file.
Tips
To better navigate the digital audio files you create, convert your microcassette in several parts instead of as one long audio file.
Warnings
If your computer lacks a specific "Line-in" jack, be sure to keep your microcassette player at a low volume. A "Microphone" jack is not built to record loud sound, and keeping your microcassette at a high volume could damage it. Many new computers have Input jacks that act both as "Microphone" and "Line-in" jacks.
Risi Media Communications/Demand Media
More Articles