How to Edit Home-Made Movies
by braniac
Updated September 22, 2017
Items you will need
Home-made movie clip

Windows Movie Maker
This is a step-by-step guide that will teach you how to edit your own home-made movies using Windows Movie Maker. This is a very fun, but challenging process. The rewards are wonderful, as you can show it off to family and friends!
Open Windows Movie Maker, if you're not sure if you have it, you can do a search for it on your computer. If you do not have it, you can go to http://www.microsoft.com/downloads to download a free copy.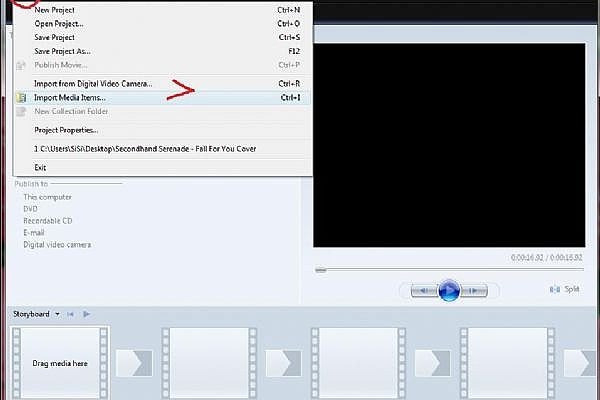 Click on FILE at the top left, and choose IMPORT MEDIA ITEMS (if on your computer) or IMPORT FROM DIGITAL VIDEO CAMERA (if the movie is on the camera) in the drop down menu. Locate the your home-made movie and click IMPORT. (See picture)
You should now see your movie. Drag the file to the first box.
It's always a good idea to start with the title/credits. Under Edit, click on TITLES AND CREDITS, and you can choose from the four options there. (See picture)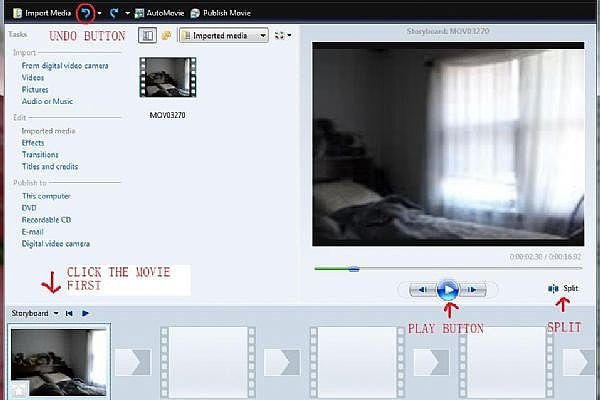 The SPLIT option is a great way to cut your movie into different sections so that you can put transitions or effects. To do that, click the first movie, then click the PLAY button. When you get to the part where you want to put a transition/effect, click on SPLIT. If you did not like where you had it cut, click the UNDO button. (See picture)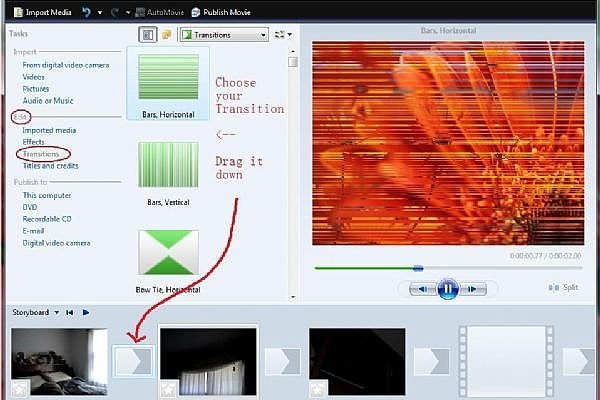 After you made some splits, you can add some cool transitions. Under Edit, click on TRANSITIONS. Double-Click on any of the transitions to view it on the window. Drag the selected one to the box below. (See picture)
Effects are a great way to spice up the movie - It adds certain effects to a certain clip. You can choose from the many effects such as sephia color, black and white, multi-color, zooming in a certain section. Click on EFFECTS under the Edit, choose which effect you like. Double click the effect to view it on the mini-screen. When you've chosen the effect you wanted for the clip, drag it to the smaller box within the clip. (See picture)
After you are done adding transitions, effects, titles and credits, you are now ready to publish it! When you publish the movie, it saves it to a different format that allows it to be playable.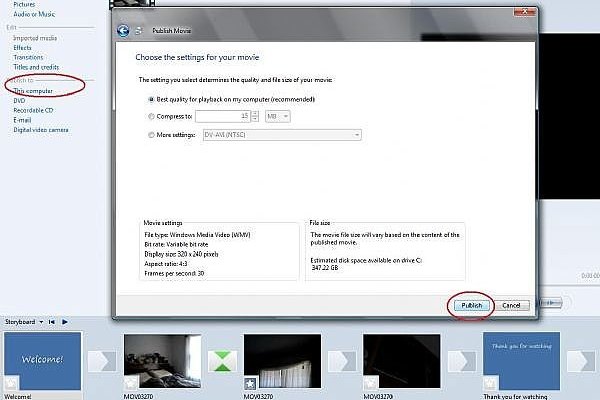 Click on Publish to THIS COMPUTER on the left hand side, name the movie, and click NEXT. Then choose PUBLISH. Congratulations! You're done editing your very own home-made movie!
Tips
See a how to video under Resources! If you're not happy with a certain thing you've done to your movie, you can click the UNDO button (picture in Step 5) You can publish this to show on your own TV, or you can send them to friends and family through e-mail.
Warnings
Never use any copyrighted material!
More Articles