How to Track My Phone With GPS on a Computer
by Sean Donohue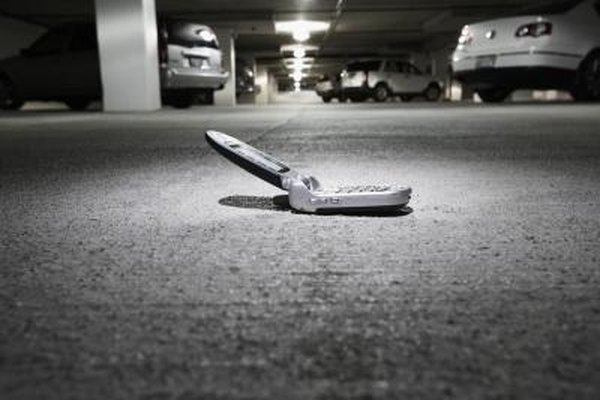 GPS is a very helpful feature for phones, as it can keep you from getting lost and also find your phone if it gets lost. You can enable GPS tracking on any Apple, Windows Phone or Android device that has a GPS receiver, and then track the device via your computer. For Apple and Android devices, you need to do some preliminary setup in order to use the GPS tracking feature: Apple devices must be linked to your iCloud account; on Android devices, you must install Where's My Droid from Google Play and configure the application for your device.
Android Phones
1
Send a text message to your phone using a friend's phone that has in the text the keyword to start the GPS trace. If you have not configured Where's My Droid to use a different GPS tracking keyword, the default keyword is "wmd gps" (omit the quotes).
2
Wait to receive up to four messages informing you that your device has received the message and is retrieving the GPS coordinates. When the device finds its location, you receive a text with its latitude and longitude coordinates.
3
Enter the coordinates into a map program that can read GPS coordinates, like Google Maps, on your computer.
Apple Devices
1
Use your Apple ID and password to log in to iCloud.com's Find My iPhone Web page (link in Resources). Click "Devices" in the upper-left corner, and then click the lost device. The dot to the left of the device indicates the connection status of the device: green means it is online, gray means it is offline.
2
Wait for the device's approximate location to be shown on the map. This will only happen if the device is online.
3
Refresh the Web page to get an accurate location or to see if the device is moving before attempting to go to the indicated address and retrieve it.
Windows Phone 7 and 8
1
Navigate to the Windows Phone homepage (link in Resources). Move your cursor over the "My Phone" drop-down menu, choose "Sign in," and then sign in with your Windows Live ID.
2
Click "Find My Phone" in the My Phone menu, and then follow the instructions in the dialog box.
3
Refresh at least once to get an accurate location. Click "Print" to print out a copy of your device's location so you can go retrieve it.
Warnings
close

Where's My Droid requires Android version of 1.6 or later.

close

iCloud Find requires iOS version 5.0 or later.
References
Photo Credits
photo_camera

Thomas Northcut/Photodisc/Getty Images