How to Reset Netflix
by Christine Wheatley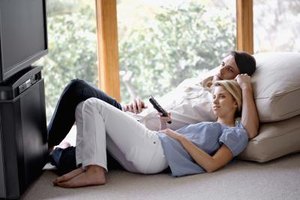 Netflix is a company that offers movie buffs the convenience of renting movies by mail or streaming them from the Internet. Members set up an account on the Netflix website and select movies to receive through the mail or streamed directly to their television through a Netflix-ready device. These devices include certain video game consoles, DVRs, Blu-ray players, HDTVs and mobile devices. If you are experiencing streaming problems or if you're switching devices, it may be necessary to reset your Netflix streaming connection.
Deactivating Netflix
1
Log into Netflix from your computer. Click on the "Your account and help" link found in the upper right corner. It will take you to a page with your account information and recent streaming activity.
2
Click on the "Manage Netflix ready devices and computers" link found about halfway down the account information page. It will take you to a list of your streaming devices and the last movie viewed on each device.
3
Click on the "Deactivate" link on the far right side of each device listed. This stops the ability to stream movies on the device. Stay on this webpage; you'll need it later.
Reactivating Netflix
1
Make sure a Netflix-ready device is hooked up to your television and a high-speed Internet connection. Find a list of available Netflix devices in the resource section below.
2
Launch the Netflix application that is found on each Netflix-ready device. If asked, designate that you are a Netflix member. Follow any other instructions that come up on your television screen. You will receive an activation code; write it down.
3
Take the code back to your computer. Find the "Activate a device" button in the upper right corner of the webpage that is still on your computer screen; click the button.
4
Enter the activation code in the box on the screen that comes up. Click the "Activate" button. Your streaming connection is now reset and your device is ready to stream movies from Netflix.
Photo Credits
photo_camera

Jupiterimages/Goodshoot/Getty Images
Article Feedback
Click here to provide feedback on this article